Theodore V. Benderev, M.D.
Clinical Professor, University of California, Irvine
Founder, Vasectomy.com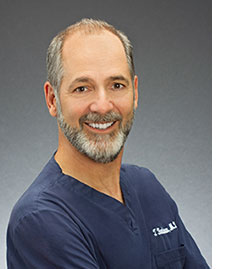 Dr. Benderev is the first known doctor to use the No-Needle Anesthesia Technique for vasectomies in California and has performed over 10,000 vasectomies.
A practicing urologist for over 20 years, Dr. Benderev has earned a reputation with patients and physicians for specialized less-invasive procedures and caring manner. He is also the founder of Vasectomy.com. Find out more about Dr. Benderev
A respected urologist, clinical innovator and researcher, Dr. Benderev performs the No-Needle, No-Scalpel Vasectomy through his clinical practice in Mission Viejo, California. Dr. Benderev is the author of many scientific articles (see article authored by Dr. Benderev in eMedicine) and has lectured extensively on vasectomy and related topics.
Dr. Benderev has practiced in Mission Viejo since 1987 and is recognized for his contribution of innovative new technology in various areas of urology. He holds many United States and international patents for Urology technologies.
In addition to his clinical and professional skill and experience, Dr.Benderev has a reputation for his expert technique and calm and friendly interaction with patients and colleagues.
What Patients Said About Dr. Benderev:
"Professionalism and confidence"
-  NC, RSM, CA
Friendly staff" 
-  KC, Trabuco Canyon, CA
"Professional environment = confidence" 
-  JA, Fullerton, CA
"Nice people - good job" 
-  BB, Mission Viejo, CA
"Calm expertise" 
-  JD, Laguna Hills, CA
Call 888-Vasectomy
888-827-3286
Advantages in choosing Vasectomy Institute of California
We ONLY perform vasectomies.
Dr. Benderev has performed over 10,000 vasectomies.
When you decide to have a vasectomy, check whether your doctor is a urologic surgeon or a family practioner. Dr. Benderev is an experienced urologic surgeon.
Dr. Benderev performed the first no-Needle No-Scalpel Vasectomy in California.
Dr. Benderev is the founder of Vasectomy.Com
After your procedure, you will be provided Dr. Benderev's personal cell phone number for any questions or concerns that you might have.